One of my most influential mentors, Nicholas de Castella suffered from CFS way back before it was a household name. He attributes his recovery to developing emotional intelligence and learning to express in a healthy manner the feelings that he had previously repressed. I know this is a little controversial since the symptoms of CFS clearly appear in the body and most of us think of emotions as centred in the brain; but the more holistic approaches to emotional mastery recognise that emotions in the brain are connected to physical sensations in the body via our nervous system.
So the idea that suppressing powerful emotions for a long period could make you physically sick starts to make sense. I note that Mickel Therapy treats symptoms and bodily sensations as manifestations of unconscious needs that our body is attempting to alert us to. Meet the need, and the symptom disappears. The Gupta Program similarly treats physical sensations as stuck emotion in its meditations.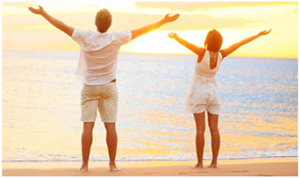 Whether you buy into all this or not, developing your emotional intelligence can only be a good thing. If it cures your CFS, that's a bonus. With this in mind, I thought I'd let you know that Nicholas is running a free online breakthrough training session on Saturday 11 October at 11.00 am Australian EDT time, for anyone interested in dealing with emotions that are holding you back in life. I've heard his presentation before and he makes a brief mention of his experience of Chronic Fatigue. He's fully recovered and now works as an emotional intelligence teacher, so you might like to check out what he has to say. Click here to join the free Breakthrough to Freedom training session.